Thursday, December 16, 2010
We are only a few days away from closing, so right now we are working to determine the logistics of the whole crazy process. I swear, the number of things that have to be done to move are just ridiculous...all of the address changes, utility setups, and car-related matters just pile up! In the midst of this, one thing on my mind is the furniture we will need for this home - we've never had anymore bedrooms than two, and when we left NC we sold one of our bedroom sets. Also, our ill-planned purchase of an off-white couch has necessitated its placement in the backhouse/party room area! Therefore, we're going to need two bedrooms worth of furniture and a new living room set. Fortunately, I have lots of ideas! I've decided that this time around, I am going to buy what I really want rather than what's on sale. I am looking into a leather couch and loveseat and an accent chair in the living room, a classic wood sleigh bed and dresser for the master bedroom (our first king-sized bed!), and a country/homey feeling off-white cottage style queen sized bed and dresser for the downstairs bedroom. Our current bedroom furniture will make its way into the guest room. :) We are going with a warm brown for the leather couches, and I've got my eye on a set from Haverty's that David and I sat in and LOVED. It looks great, of course, but most importantly it is super comfortable and smooshy. The arm-rests are at the perfect angle to take an afternoon snooze while watching television. Because all of that brown has the ability to make a room seem dark, I found THIS CHAIR: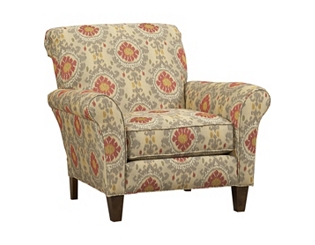 I LOVE it! It will coordinate perfectly with the colors we've had our eye on for the walls. My friend Bre has a great accent chair and it just makes her living room feel so comfortable, so I know its a necessity.

So, one more step will be completing after closing on Monday...we're headed to the furniture store to place our order! Good thing they have two-year no finance charge credit right now!!!!!
Friday, December 10, 2010
Tuesday, December 7, 2010
Monday, December 6, 2010
Sunday, December 5, 2010